Peanut brittle with rose &cherries. Using an oiled offset spatula, quickly spread into an even layer about ½ inch thick. Slip the oiled spatula under the hot candy to loosen the edges and bottom. Break the brittle into large pieces, and layer between pieces of waxed paper in an airtight container.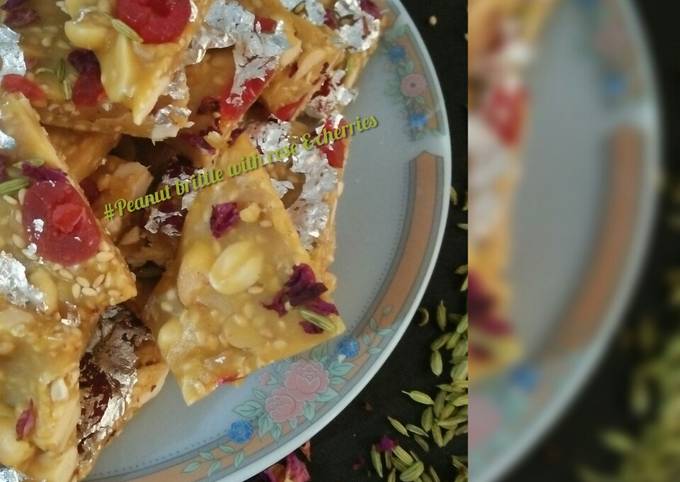 The First Apostolic Church Ladies Auxiliary usually takes orders for this delicious, old-fashioned, homemade peanut brittle, in October, and early December. Stir in baking soda until light and foamy. Pour onto cookie sheet and spread thin. You can cook Peanut brittle with rose &cherries using 9 ingredients and 9 steps. Here is how you cook it.
Ingredients of Peanut brittle with rose &cherries
You need of Jaggery 3pieces (250gms approx).
You need 1/2 bowl of Toasted peanuts.
You need 1/2 cup of Seasame seeds.
It's 1/2 tbsp of Fennel seeds.
Prepare 1 pinch of Cardmum powder.
It's 1 tbsp of Clarified butter or desi ghee.
You need of Dry rose petels a few.
Prepare 4-5 of Sliced Cherries.
You need 2 sheets of Edible silver varak.
In a double boiler over hot water heat peanut butter until melted. Meanwhile prepare syrup in a large saucepan by combining sugar, corn syrup and ¼ cup water. Lower heat to medium, add butter and stir until melted. Peanut brittle is a smooth, hard candy with peanuts.
Peanut brittle with rose &cherries instructions
At first toast sesame seeds in a heavy bottom pan at medium to low heat till spluttering sound starts..toast fennel seeds fo' about 30 seconds to remove the moisture of fennel (don't toast over as the colour of fennel may change).
Grate or crush Jaggery and keep aside..grease a rolling board or a flat surface with little bit of clarified butter/ghee.
Heat a non stick frying pan and melts grated /crushed Jaggery then slightly caramalized it..add toasted peanuts,sesame seeds and cardmum powder in it..give a good mix to combine all the ingredients well..add clarified butter/desi ghee and stir it well.
Pour the hot melted jaggery- peanut mixture on the greased rolling board and spread with the help of a spatula..sprinkle toasted sesame, toasted fennel, dry rose petels n stuck sliced cherries on it then give shape to it as a square by cutting the edges n gently press with yo'r hand to stuck all the garnishings on jaggery brittle(do all the sprinkling & garnishing process very fastly as the jaggery will get dry with in a minute or two)..flatten the brittle as thinly as u can..apply silver varak.
Quickly make marks of small-small square or rectangular pieces(as u wish) with the help of a 🔪 knife..let it cool down.
Yo'r peanut brittle with rose & cherries is done.
Remove the pieces from the rolling board and transfer in a serving plate.
Serve or store in an air tight container and consume fo' about 10-15days and celebrate the "Eve".
Enjoy👍.
Its uneven broken shape makes it distinctive and fun to make. I love to make holiday cookies for neighbors, but for people who live farther away candy is ideal. It keeps longer and holds up much better to packaging and mailing. See more ideas about candy packaging, packaging, bake sale packaging. But peanut brittle is delicate and you can easily bite into it—how?