Chicken Katsu Curry with Corriander Rice.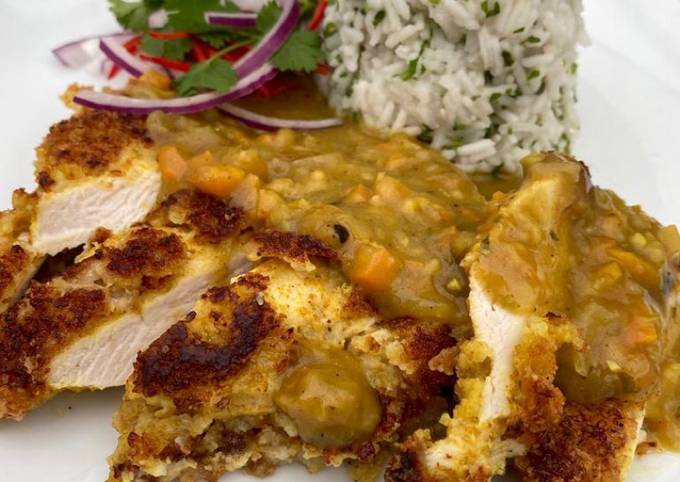 You can cook Chicken Katsu Curry with Corriander Rice using 24 ingredients and 15 steps. Here is how you cook that.
Ingredients of Chicken Katsu Curry with Corriander Rice
Prepare of Katsu Curry Sauce.
It's 1 of medium white onion.
It's 1 of medium carrot.
You need 2 cloves of garlic.
Prepare 2 cm of fresh ginger.
It's 1 tsp of garam masala, turmeric, medium curry powder.
It's 2 tbsp of plain flour.
You need 600 ml of boiling water.
You need 1 tbsp of mango chutney.
You need of Salt.
Prepare of Pepper.
It's of Olive oil.
Prepare of Chicken.
Prepare 2 of medium chicken breasts.
Prepare 250 ml of low fat buttermilk.
Prepare 2 tbsp of medium curry powder.
You need 2 of crushed garlic cloves.
You need 100 g of panko breadcrumbs.
You need of Olive oil.
Prepare of Corriander Rice.
It's 150 g of long grain basmati rice.
Prepare 400 ml of water.
Prepare of Small bunch of corriander.
It's of Salt.
Chicken Katsu Curry with Corriander Rice instructions
Finely dice the onion, garlic, ginger and soften in a pan with a little olive oil..
One softened, add one finely diced medium carrot and combine until soft..
Add a small bunch of finely chopped corriander stalks and combine.
Add the turmeric, garam masala and curry powder and toast for 1 minute..
Add the flour and cook out for 2 minutes on a low heat..
Gradually add 600ml of boiling water to the pan, stiring until the sauce begins to thicken..
One all the water is added, bring the sauce to the boil and simmer for 15 minutes..
Stir in the mango chutney and season with salt and pepper to taste..
One the sauce is thickened. Set aside..
Butterfly the chicken breasts and add to a bowl with the buttermilk, curry powder and garlic. Combine fully, cover and marinade for 2 hours..
Once ready, remove the chicken from the buttermilk and cover in panko breadcrumbs making sure the whole chicken is covered..
Add the rice to a pan with 300ml of water and salt. Bring to the boil and simmer for 10 minutes. Turn off the heat and cover until all the liquid is absorbed and the rice is cooked..
In a hot pan, add enough oil to cover 1/4 of the chicken breast and gently fry on both sides until golden brown and cooked through to 75 degrees..
Finely slice the chicken breasts and top with the katsu sauce..
Finely chop the corriander and add to the rice. Mix well and serve alongside the chicken..